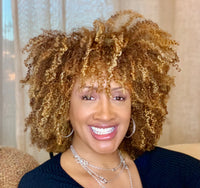 Meet The Founder
Joy Truth's mission is simple and bold to help you "Be a Better You!"

Propelled by her own natural hair journey, she discovered that she could have it all from curly to straight, without harsh chemicals. This hair awareness led her to form I Luv Curls®, a brand of products that transforms your curl drama into a luv story.

A creative and visionary entrepreneurial leader whose passion for beauty and wellness led her to leave Corporate America and launch twin companies, Harmony Beauty Boutique and Harmony Yoga Pilates - a unique brand of personal care products and wellness services.
LEARN MORE
here's what our community has to say about using I Luv Curls®!
I just can't say enough about the hydrating mask. Anyone with curls can always use a bit of moisture. I love curls Add Moisture Hydrating Masque spares no expense when it comes to richness or hydration. I've tried plenty of products and haven't found any that come close. Your hair will thank you for this moisture masque.

Melody M.
No more sitting under the dryer for 30 minutes. This conditioning flaxseed cap is just what my hair needs on wash day. Not only does it help the products penetrate my hair but I can walk around without being stationary under a hooded dryer. Luv!

Renee G.
I love these products! I loved the packaging of the products! The cleanser smells so wonderful. I literally wanted to leave the hydrating masque in my hair all day! It felt great to my scalp! ❤️ I would recommend I ❤️Curls to anyone!

Santrice Y.
Follow @iluvcurls ❤️
Plus, share your wash day routines using our products!